Vegan, vegetarian, Gluten & dairy free.
Here a special page for guests who need to take into account heir diet while traveling ! (Vegan, Gluten free, dairy free, egg free…)  I have myself a special diet based on the eviction of Gluten, dairy & sugar. I know the importance to find & select safe food places while traveling that can respect my diet & where I can enjoy food!
Note : tap water is safe in Paris : )
Good news is that in Paris you'll find a lot of restaurants compatible with any special diet!
 Paris is offering a large choice for gluten & Dairy free & Vegan options  !
  .NATURALIA VEGAN.
If you want a 100% secure place for Vegan & gluten free products, go to Naturalia Vegan a shopping place dedicated !
Naturalia, Rue Richer // 39-41 Rue Richer, 75009 Paris // 5 min walk from your loft Close
                                             .Noglu.
The most famous Gluten free kitchen in Paris. One of the first opened.


NoGlu // 16 Passage des Panoramas, 75002 Paris // 10 min walk from your flat
.La Guinguette d'Angèle.
It is an Tiny adorable gluten free, vegetarian & vegan cafe not far from the Louvre. Angèle is now a very famous healthy coach in Paris!
La Guinguette d'Angèle // 34 Rue Coquillière, 75001 Paris // 15 min walk from your flat
.Jah Jah vegan Restaurant.
Raw food, no gluten, lactose and egg free ! A pure vegan restaurant!

Jah Jah // 11 Rue des Petites Écuries, 75010 Paris, Metro "Bonne Nouvelle" / "Strasbourg St denis": 5 min walk from your loft Close Le Marais or Opéra //
 .Big love café.
Craving for a "Gluten free" Pizza or giant pancakes ? We have found the perfect place here ! Have a look at the menu, prices are really low for Paris but arrive early, the restaurant is pretty small and busy all day long!
Big love café // 30 Rue Debelleyme, 75003 Paris // 10 min metro from your loft Close Le Marais or Opéra //
 .Chez Ann.
This is a DIM SUM paradise & & menu is gluten free : ) If you like Asiatic food you'll love this place! vegetarian & vegan options.
Chez ann// 29 rue de l'Echiquier 75010 Paris // 1 min walk from your loft Close Le Marais or 10min walk from Opéra lofts //
.les tontons veg.
Vegan burgers. This place just opened and is driving the neighborhood crazy with its decadent burgers, crispy fries and salivating desserts.
9 Rue de Lancry, 75010 Paris / 10min from your flat
 .daily syrien veggie.
On its five tables taken by storm, parade midday and evening mezes well tucked: delicately sweetened feta cigars, extra-fresh labné, mashed lentils, zaatar-sesame-thyme pancakes to dip in hummus, delicious foul – salad lukewarm broad beans and chickpeas…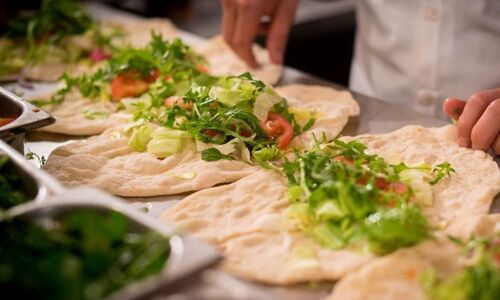 DAILY SYRIEN VEGGIE /72 Rue du Faubourg Saint-Denis, 75010 // 5-10min walk from your loft
.CHAMBELLAND BAKERY.
Chambelland is an exclusive Gluten free bakery! ! It is THE FOOD sensation of Paris right now! A must try if you want to try French pastries!
CHAMBELLAND //14 Rue Ternaux, 75011 Paris // 10 min metro from your loft Close Le Marais or Opéra //
.Café Mareva.
100% Gluten Free Lactose Free Restaurant & Tea Room
Mareva café / 38 Rue du Faubourg du Temple, 75011 Paris/ close Canal St Martin
.Parisian Markets.
One of the best spots to shop for healthier ingredients is the markets that happen all across the city, every day of the week.
The closest Market is St Martin Market / 31/33, Rue du Château d'Eau 75010 / 10min from your flat